Hands are an important part of our body and have many functions. They can play an important role in life, production, communication and self-defense. In the food production process, the role of our hands cannot be ignored. Although automated control technology and automated processing equipment are used more and more widely in the field of food production, such as food filling, packaging, sealing, packaging, transportation, palletizing, and other operations are highly automated, but many processes are still Do not open people's hands.

In the food production process, the role of production workers' hands is mainly reflected in the following processes: purchasing raw and auxiliary materials, opening packaging containers, switching machines, dividing, rolling, product forming, handling materials, packaging, sealing, inspection, etc. Especially in the processing of some foods with high requirements on texture and softness, the sensory properties of the materials need to be inspected. Simply relying on the machine can not always achieve the desired results. In this case, it is still necessary to rely on human experience to judge whether or not sensory changes in food materials need to be determined by touching, seeing, and smelling.

However, in the process of food processing, packaging and logistics, operators often suffer from problems such as hand injuries, hand bacteria, mold, and excessive yeast, which can cause physical injuries to workers and contaminate food. Lead to unqualified food safety quality, but also seriously affect the production and operation of food companies. Then, how can food production enterprises do their job of protecting workers' hands to prevent these problems?

According to Mr. Zhou, a scientific and technical personnel at a disinfection technology center in Shanghai who specializes in food safety and quality control technology, the protective work of workers' hands mainly includes two aspects: First, it prevents workers from being cut, bruised or wounded by machines; It is to do a good job for workers' hand hygiene to prevent microbial contamination of food on unclean hands.

Mr. Zhou believes that in order to do a good job of hand protection for food production personnel, the following measures can be taken: First, NICOLER's automatic hand disinfection technology is adopted, which can effectively eliminate the contamination of food by hand microbes of production workers, thus improving food safety and quality. The second is to improve the operating practices of workers and prevent accidents caused by machine injuries. Workers properly wear protective gloves to reduce the risk of injury to the machine or chemical solvent counterparts.

In the industrial production process, the hand injuries of production workers are mainly divided into contact dermatitis injury and mechanical injury: 1. Contact dermatitis injury is mainly the worker's hand skin damage, the symptoms of such injuries are dry skin, peeling Itching, swelling, blisters, herpes, scab, etc. The reasons for this damage include long-term exposure to acid solutions, alkaline solutions, detergents, disinfectants, etc., or cold frostbite, high temperature burns, and flame burns. 2. Mechanical injury is caused by improper operation of the worker or malfunction of the machine, causing damage to the worker's bones, muscles, tissues, and structures. The phenomenon of injury includes skin cut, severed fingers, and fractured bones. Severe deaths may occur.

One of the protective measures taken by the manufacturer against the workers' hands is to wear protective gloves . As the name suggests, protective gloves are gloves that are used to prevent external factors in the course of work or life from harming our hands. These external damage factors include biological factors, chemical factors, physical factors, and the like.
According to different uses, protective gloves can be divided into acid-proof gloves, alkali-proof gloves, high temperature gloves, low temperature gloves, waterproof gloves, insulating gloves, welders gloves, rubber oil gloves, anti-virus gloves , anti-static gloves, shock gloves, cut-proof More than a dozen gloves .

According to different materials, protective gloves can be divided into the following categories, the quality requirements of these gloves are also different: 1. Rubber protective gloves. This glove product must not contain reclaimed rubber and ointment, and must not have any quality problems such as cracks, creases, stickiness, blooming, brittleness, etc. In addition to sulphide and other ingredients, the content of rubber should account for 70% of the total species. the above. 2. Canvas protective gloves. The glove is divided into three kinds of specifications: five fingers, three fingers and two fingers. The sewing needle code is 4-5 needles per cm, and the canvas quality is not less than 380 g/m2. 3. Plastic PVC protective gloves. The product is required to be made of a material that does not cause skin irritation or inflammation. The thickness of the gloves on both sides should not be less than 0.6 mm, and no leakage of air is allowed. 4. Latex protective gloves. This type of glove must not leak gas, appearance should have no obvious cracks, bubbles, impurities and other quality problems. 5. White yarn protective gloves. This type of gloves includes two varieties, namely, flat mouth and Luokou: Flat white gauze protective gloves should be made of white thick cotton yarn (21 × 8) roots and weaving, weight not less than 45 g / vice, Luo Kou white yarn protective gloves It is made by combining the white cotton yarn (21×9) and the weight is not less than 52 g/pair. 6. Other materials protective gloves.
Copyright Statement: This article is reproduced from online media and represents only the author's opinion. It has nothing to do with this site. If news articles and comments infringe your legal rights, please call us and we will handle it in a timely manner.

Pull Rivet Nuts , pull cap, instant pull cap, the fastening field, currently widely used in automobile, aviation, instrument, furniture, decoration and other electrical and light industrial products on the assembly. In order to solve the defects of metal thin plate and thin pipe welding nut, such as easy melting, easy sliding tooth of tapping internal thread and so on, it does not need tapping internal thread, does not need welding nut, riveting firm efficiency is high, easy to use.
Type editor
Small hexagon Stainless Steel Rivet Nut with through hole and small hexagon stainless steel Rivet Nut with blind hole.
Use the editor
If the nut of a product needs to be installed on the outside, and the internal space is too small to allow the pressure head of the riveter to enter the process of riveting and the sprouting method can not meet the strength requirements
Pull rivet nut
Pull rivet nut
Wait, at this time pressure riveting and full riveting are not feasible. Must be riveted with a pull. Applicable to the fastening field of all thickness plates and pipes (0.5mm-6mm). Use pneumatic or hand pull riveting gun can be riveted once, convenient and firm; Replace the traditional welding nut, make up for the lack of metal sheet, thin tube welding melting, welding nut not good.


Hebei Xinyu Metal Products Co.,Ltd is a ISO9001-2008 cerificated enterprise,which specialize in manufacturing and exporting Furniture Nuts .Product including Wing Nuts , Hopper Feed T Nuts , Propeller Nuts , Weld Nuts , Pallet Nuts , Locking Nuts , Rivet Nuts , Doggie Tooth Washers , Steel Stamped Parts , Hopper Feed Rivet T Nuts , Metal Stamped Parts ,T-Nuts For Cliff-Climbing,Furniture Nuts, Tee Nut For Rock Climbing holding, Insert Tee Nut ,Middle steel Zinc Plated Stamping Wing Nut, Auto Flat Plane Weld Nuts ,Automobile Spot Welding Nut,Customer-Made Metal Stamping Parts, Cold Heading Tee Nuts ,Stainless Steel Butterfly Nuts, Furniture Eccentric Wheel , Cam Lock Furniture Nut .
Our key strength are custom made special fasteners according to drawing or sample .We have longer and stable business relationship with well-known companies from American, Poland,Germany,French and so on.In the future ,xinyu will continue focusing on innovation special designed products,becoming your most trusted partner.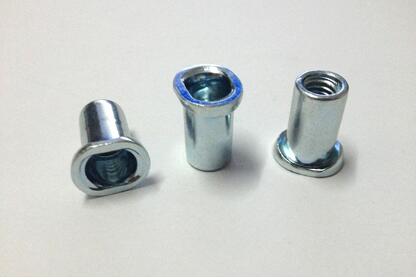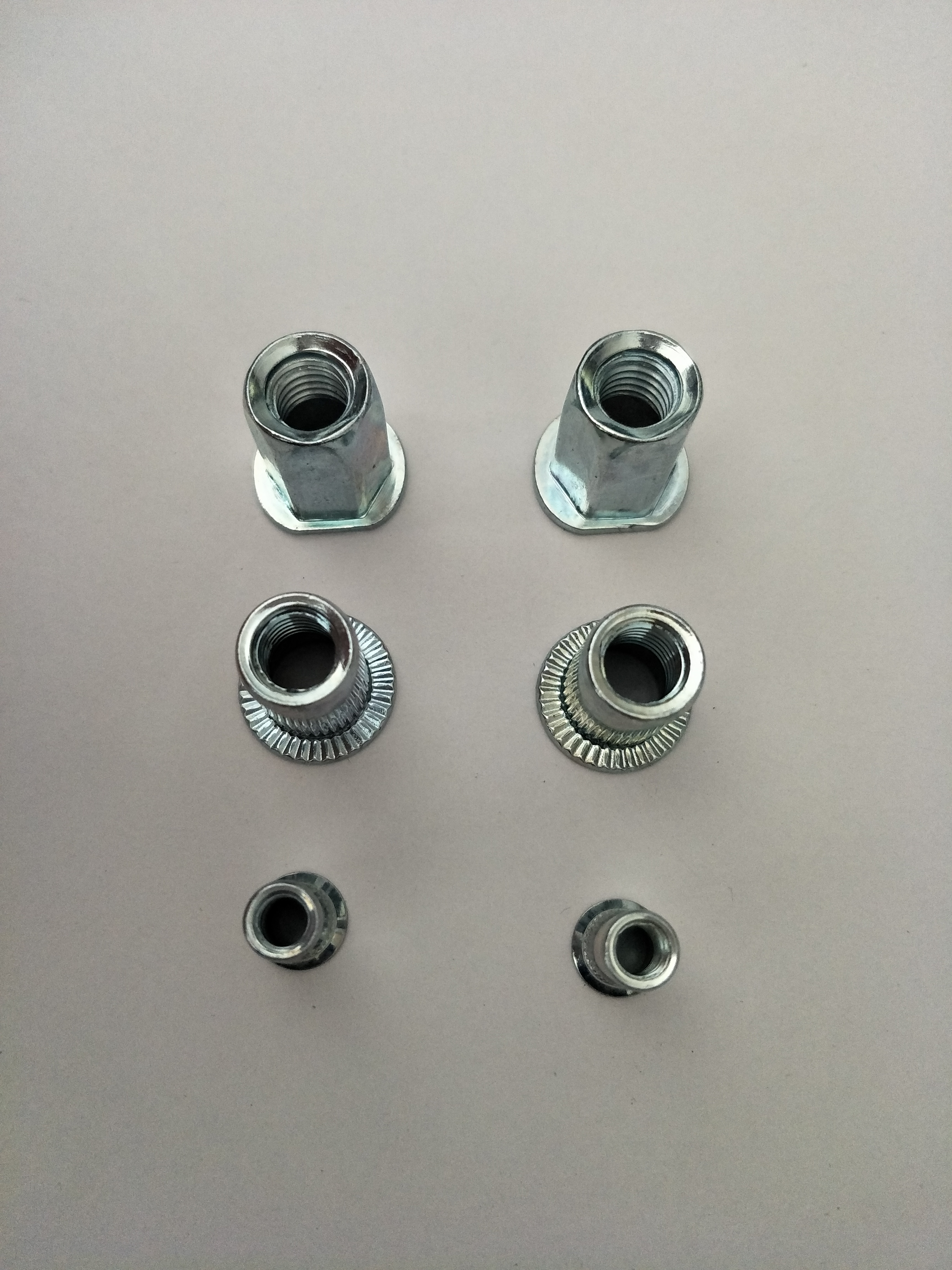 Pull Rivet Nuts
Rivet Nut,Pull Rivet Nuts,Carbon Steel Rivet Nut,Stainless Steel Rivet Nut,Rivet Nut For Wood,Wooden Furniture Rivet Nut,Flat Head Rivet Nut,Round head Rivet Nut
Hebei Xinyu Metal Products Co.,Ltd , https://www.t-nuts.net