Model NO.:
Sliding windows
Function:
Heat Insulation, Soundproof, Anti-Theft, Airproof, Insect-proof, Dust-proof, Invisible, Decoration
Surface Finishing:
Finished
Max Length:
Milled Finish 12m, Power Coating 7m, Anodize 6.5m
Profile Color:
Silver, Champagne, Bronze, Brass, Black, etc
Thickness:
Window Profile 1.4mm, Door Profile 2.0mm
Sample Time:
1~2weeks After Receiving The Mold Fee
Lead Time:
25~30days After Receiving Deposit
Warranty:
6~20 Years for Different Surface
Advantage:
One-Stop OEM Aluminum Extrusion Service
Equipment:
Drilling, Punching, Tapping, CNC Machining, Weld
Profiles Extruded:
Solid / Semi-Hollows / Hollows / Multi- Hollows
Transport Package:
PE Films + Air Bags + Iron + Others
Specification:
As per requirement
Company Product Range:

Aluminum/Aluminium extrusion profile, Aluminum windows & doors, Aluminum curtain wall, Aluminum decoration materials, Aluminum industrial parts and profile, Aluminum CNC machining parts, Aluminum heatsink, Aluminum LED profiles, Aluminum fence/handrails, Aluminum shower room, Aluminum ladders, Aluminum furnitures/cabinet, Aluminum mobile house, Aluminum moving villa, etc.


Factory Introduction: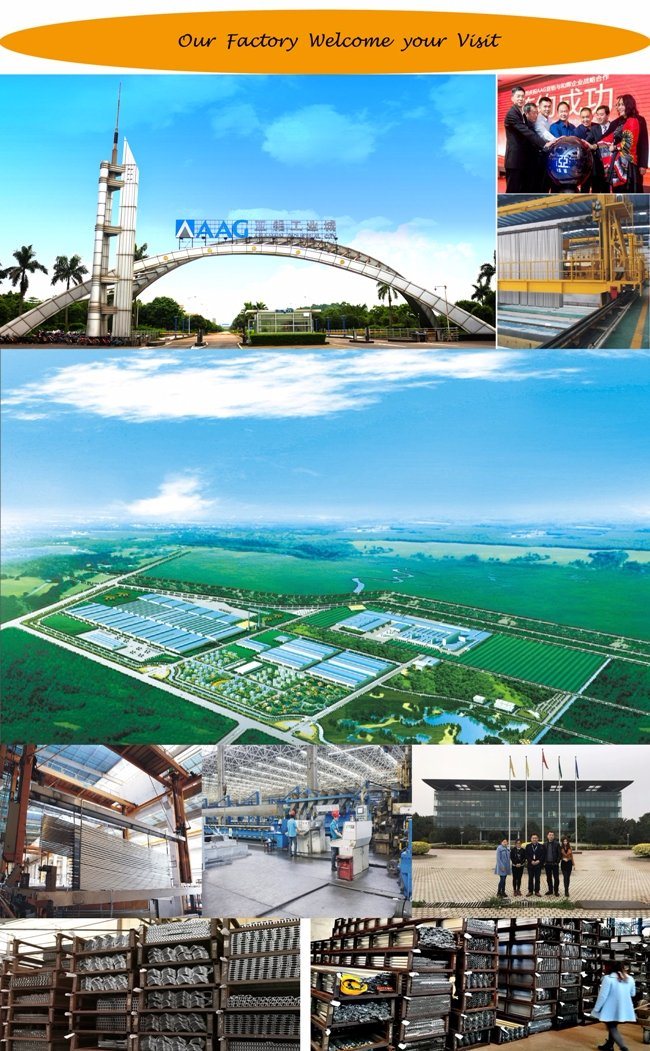 1. Company with rich manufacturing experience
Guangdong Guang Yin AsiaAlum Factory Co., Ltd,is one of the leading aluminum manufacturer in China, with 26 years experience. 

2. Production Management
AAG made complete quality management program and system, Monitor the process from product development, purchasement, production, sales and aftersale service. We passed OHSAS18001,Norway Det Norske Veritas (DNV/ISO9001),British BSI-ISO/TS16949, China GJB900IB, etc.

3. Quality Supervision
AAG own complete testing equipment from raw material to finished products. We own the most powerful curtain wall testing base in China, we passed CNAS, ISO/IEC17025 certificate of authorization, made us be able to offer you accurate,overall,scientific testing datas to our client.

4. Factory Capacity:
Die Center
CNC cutting: 16 sets
CNC lathe: 7 sets
CNC machining center: 15 sets
heat treatment furnace: 3 sets
CNC EDM: 14 sets.
accuracy can be 0.005-0.001mm.
Extrusion Lines
Extrusion lines: 44 sets imported from Japan,Italy with annual capacity 400 thousands of tons.
Anodizing Lines
With 5 full-automatically horizontal type and 1 vertical type.
The oxidize aluminum materials length is up to 10m, electrophoretic materials length is up to 7.5m, with an annual output of 150,000tons.
Liquid Coating Lines
With 6 powder coating lines from Italy, 2 vertical spray-coating lines from USA. The longest aluminum profile can be coated is 11m, with annual capacity uo to 250,000 tons.
Powder coating lines
With 9 powder coating lines from Italy and 4sets of guns from Switzerland

Product Details:

Frame:
            Material: 6063 - T5/T6 aluminum/aluminium alloy extrusion profile
            Surface Finish: anodized, powder coating, electrophoresis, PVDF coating, brush, wood grain transfer, polished, etc.
            Color: silver, champagne, bronze, brass, black, wooden, white, and others.
            Series: 50/60/70/75/76/105/110/118/120/140156//200, and others.
Glass:
           Glazed: single glazed, double glazed, triple glazed, etc
           Color: clear,green, blue, brown, etc
           Thermal: thermal-break, non thermal-break (single)
           Performance: weather resistant, bulletproof, and others
Accessories:
          Hardware: Local brand (Doric, SS, etc) or Chinese brand
Usage:
         Hotel | Home | Commercial Building | Closet | Bathroom| Curtain Wall | Industry | And Others


Why Choose Us:

1. Since from 1991
2. Successful case:Â 
                 USA: California government building
                 USA: Las Vegas Wil tower
                 USA: Las Vegas Sauber holiday apartment
                 USA: Los Angeles Seadous-sinai medical center
                 USA: Los Angeles Roosevelt hotel
                 USA: New York Wenhua Oriental hotel
                 UAE: Dubai jumeirah sailing hotel
                 UAE: 014 building
                 UAE: LaoLiShi building
                 Australia: Melbourne queen victoria market
                 Australia: Bagrand Church
                 Australia: Sydney Li Jing new world
                 Australia: Pacific highway
                 Japan: Tokyo midtown shopping center
                 Japan: Tokyo train station
                 Japan: Tokyo new marunouchi building
                 Thailand: Bangkok Empire State building
                 Chile: Magda Lena mansion
                 Chile: St. Louis building
                 Chile: National building
                 Russia: Exxon's Sakhalin
                 Spain:  Madrid space building
                 Singapore: Paint Street
                 Singapore: Qiaofu square
                 Iceland: Opera Theater
                 Iceland: Reck Mick hotel
                 Taiwan: Unified dreaming time shopping plaza
                 Macao: Pujing hotel
                 Korea: South Korea telecom
                 Kuwait: Marla building
                 ......
3. With ISO9001, ISO14001, Norway DNV Certifiaction, Miltary GJB9001B Certification, National CNAS Testing Center Assessment, National Quality and Integrity Demonstration Enterprise, and other more and more certifications.
4. Strong Manufacturer: R&D team, 2 millions sqm workshop with equipment from Germany, Japan, USA and Italy, with our own advanced molding design and production ability.
5. Accuracy: Â The precision of design size of cutting section can reach 0.005-0.001mm.
6. Quality Control System: Every Department has independent self-calibration system, advanced laboratory and testing equipment provided for a full range of reliable physical and chemical analysis and testing on each piece of raw material and product. 
7. Capacity: Annual 400,000 tons.

Quality Control: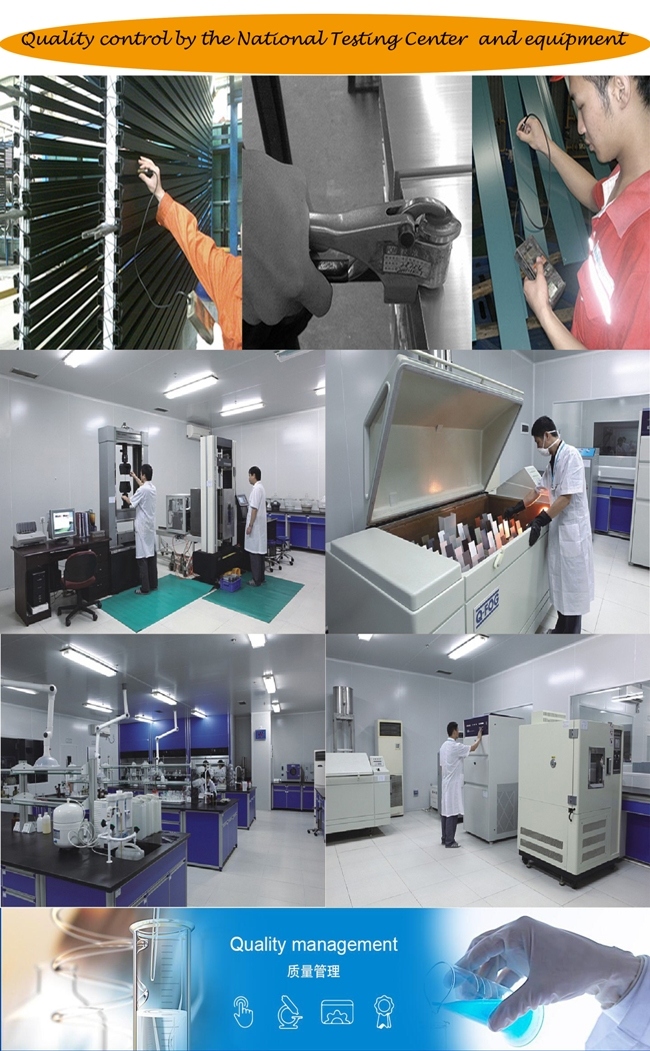 Project Case: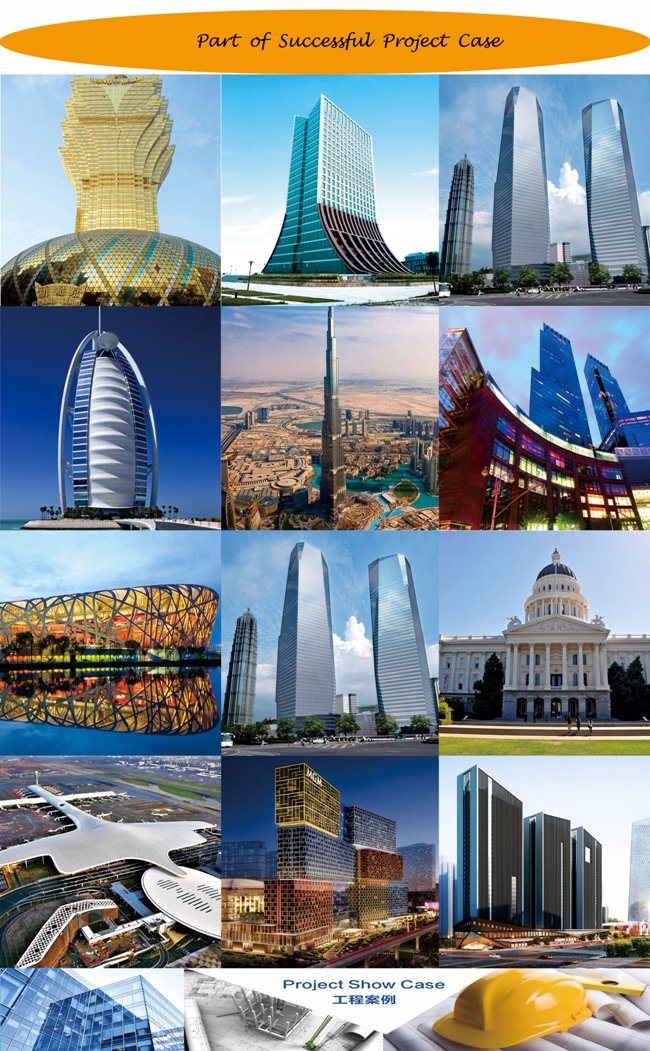 Exhibition & Clients: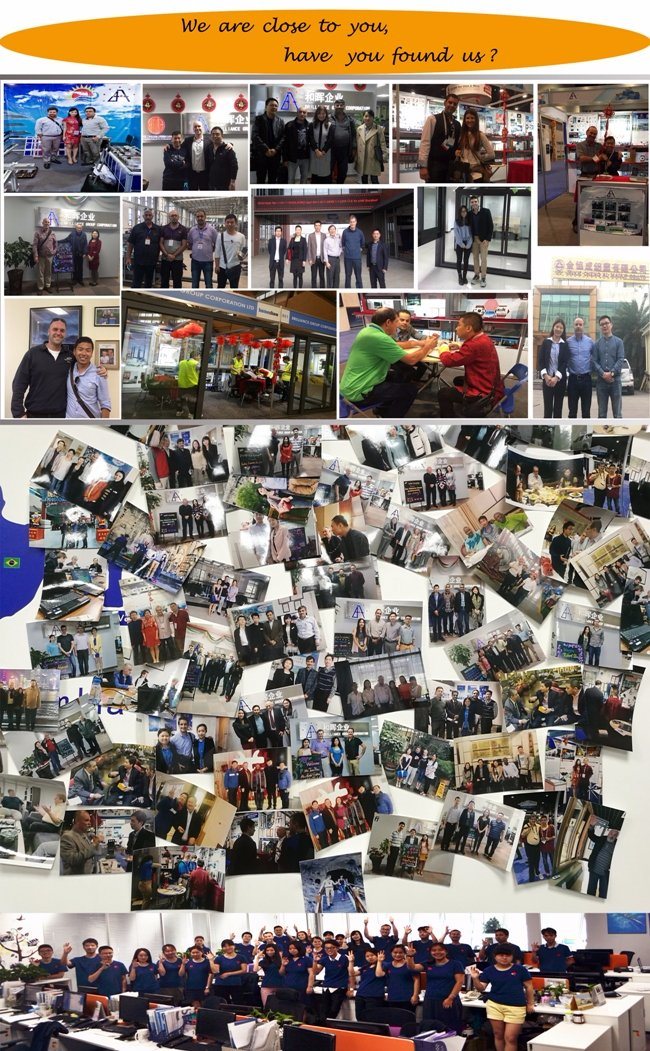 FAQ:

Q1: Are you manufacturer ?
A: Yes,We are manufacture since from 1991, is a well-known company with good reputation in China even Asia.

Q2: If I need sample, could you support?
A: We can supply you with the sample for free, but the delivery charges will be covered by our customers. For avoiding the misunderstanding, it is appreciated if you can provide the International Express Account for Freight Collect.

Q3: What's your MOQ ?
A: 1 metric ton for each model.

Q4: What's the thickness for anodizing? Can you do 15 um?
A: Our normal thickness is about 10 um. Yes, we can do 15um and above.

Q5: What color you can do for powder coating? The thickness for powder coating?
A: We can do any color for powder coating as long as you can provide the color sample. Our normally powder coating thickness is 60-80um.

Q6: How do you charge the mold fee?
A: Incase we need to open new mold for your ordered profiles ,the mold fee will be refounded to customers when your order quantity reaches a certain amount.

 Q7. What is the differences between theoretical weight and actual weight?
A: Actual weight is the actual weight including packaging. Theoretical weight is identified according to the drawing,calculated by of the weight of each meter multiplied by the length of profile.

Q8. How do you quote price , per ton or per meter?
A: We provide more than two pricing modes



Q9: How many years of your windows and doors product warranty ?




A: 10 years.





Q11: What color you can do for wood grain?




A: Our most popular colors are Western Red Cedar, Australia Cedar, Jarrah I, Jarrah II, Chestnut, Bush Cherry, Bush Wood, Western Wood, Snow Gum, etc. If you need any other colors, we can do according to the color samples you provide.





Q12: How's the weather resistance for wood grain finish D1010?




A: (1). Powder: Akzo Noble Interpon D1010.




    (2). Wood grain film: Italian Menphis.




    (3). Standard complied: American AAMA Standard.2603




    (4). UV test:1000 hours.




    (5). Salt spraying test:1000 hours.




    (6). Normal weather: 10 years color guarantee.





Q13: What certification do you have? What's your standard?




A: We have ISO certification. Our standard is DIN, AAMA, AS/NZS, China GB. We got more certification from Norway and other counntries, we also passed the related certification of miltary industry.





Q14: What's the delivery time for samples and mass production?




A: (1). 1-2 weeks to open the new moulds and make free samples.


    (2). 3-4 weeks after receipt of deposit and confirmation of the order.

Q15: How much the shipping cost is ?
A: The shipping cost changes every month. From China to Sydney/Melbone is about USD650 for 1 20ft container.

Q16: How do you pack your product?
A:Â Packing steps for aluminum windows:Â 
    Step 1.Protective tape protects frames from scratches; 
    Step 2.Keep windows fixed on iron pallets; 
    Step 3.Tie up windows on the iron pallets with plastic belts; 
    Step 4.PE films keep windows away from sea water; 
    Step 5.Fill in the space between each two iron pallets by air bags; 
    Step 6.Tie up iron pallets in container with plastic belts. 
    Our packages will ensure the windows arrive at project jobsite in good conditions.

Q17. Are you supplying standard sizes of windows/doors or customised products ?
A: Both are available. We have our own designed windows/doors series, and we also supply customised products for lots of end customers,developers and builders.

Q18. Is there any price difference between powder coating and anodizing ?
A: Yes, there is little difference. Different surface finish will make little different cost difference.
We recommend you to choose anodized finish if the house is near salt water for long-effective corrosion resistance,but powder coating will be better if the house is far away from salt water.

Q19. What kinds of hardware can you supply ?
A: Commonly Germany brand,China top brand and Australia brand,and other brands are available.
If you are in Australia, we recommend you to use Australia brand if you are in Australia for easy replacement,so local brand is the best choise.Last but not the least,the price is different even if same brand,as the locking system makes it happen,the locking systems we are using are long-lasting. Â Â 

Q20: What's your payment term?
A: For the fist order, we usually use 30% T/T deposit + 70% T/T before loading the container. For future order, we can do 30% T/T deposit + 70% T/T balance against B/L copy.
 
Contact now, we will reply you in 1-10 minutes
(Chinese working time).


 
Aluminium honeycomb panels rely on aviation-grade sheet aluminum for the faces with an aluminum honeycomb in the center. This creates excellent rigidity, but the panels weigh much less. For instance, an aluminum honeycomb panel weighs 1/5th what a solid aluminum panel weighs, and 1/10th of what a solid steel panel weighs.
The honeycomb panel is a revolutionary product that offers superior strength, crack-resistance, ease of installation, and amazing affordability. KM Haus offers two types of honeycomb panels: aluminum and stone. Each utilizes a large format that speeds installation.
Aluminum honeycomb panels are an excellent choice for metallic modern facades on commercial or residential buildings.

Aluminum Honeycomb Panel,Honeycomb Wall Panel,Aluminum Honeycomb Wall Panel,Aluminum Composite Wall Panel
Shenyang Xiandai Jixiang Decorative Material Co., Ltd , https://www.modernbond-acp.com